Crane OCR System
Suraj Informatics, Crane OCR automatically identifies container and equipment details when landing and unloading.
Our fully integrated Crane OCR System, which automatically reads and records the ISO Code of containers, is the way it is managed by the STS Crane. The Crane OCR System connects the crane (PLC) logic control to activate and process data. The sophisticated image acquisition and recognition system is attached directly to the crane and is connected to the crane control system.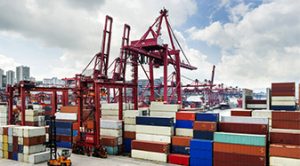 What is C-crane?
C Crane Systems comprise all hardware and software components for direct connection to container processing plants. Can offer a rich range of possible elements, including; Harmful images, permeability, hazardous labels and reading and reporting numbers (terminals tractor) in which the container is moved. This system also performs operations where the cranes are either platform or without platform.
The crane OCR is a clear task for Kyle operation after terminal automation. However, Crane OCR also automatically releases and confirms parking instructions and TOS commands in real time for manual terminals for increased productivity and safety.
Advantages of Crane OCR:
Crane OCR System can match the container numbers with the work manifesting to confirm the OCR results. The numbers and OCR images of the containers are marked to support physical controls. The main advantages of the Crane OCR system:
Automatic recording of container loading and unloading events
By direction for better preparation and operation
UTR Lecture ensures greater efficiency in the backyard and tracking of certain containers
Era dates Works of a berth worker or assessor on a reclining crane, leading to more safety and increased insurance premiums due to increased occupational safety
Reduce the workers associated with moving containers to pier, increasing efficiency
Enable real-time data processing.