Importance Of School/College Campus Security:
School and College Safety is a growing problem, especially in India, where several school attacks have destroyed dozens of lives in recent years. However, arms attacks are not the only security issues that schools need to address. The premises of educational organizations are a public place where a complex visitor's flow must be managed-from scientists to educators to various unique and frequent visitors.
These authorities must manage both the identity of visitors and access to certain sites and facilities. For example, even a teacher can be restricted in terms of access to certain rooms, but visitors may only be allowed in the areas of a particular town or school building.
These measures require the introduction of often rather complex access management systems, with increased security concerns in schools and other public authorities.
What should be the Security Arrangement for a School?
Ensuring safe University security is difficult. Unlike office buildings where you have some entry points, usually in a nearby neighborhood should provide a number of buildings and spacious open areas. This in turn requires the adoption of a combination of security measures and access control methods.
Video Surveillance System can be good to monitor open spaces. But School safety is not really possible without the security personnel being taken at each individual entry point. By combining video surveillance and special security, the school can take preventive action against unwanted visits and pay special attention to visitors who look like a potential threat.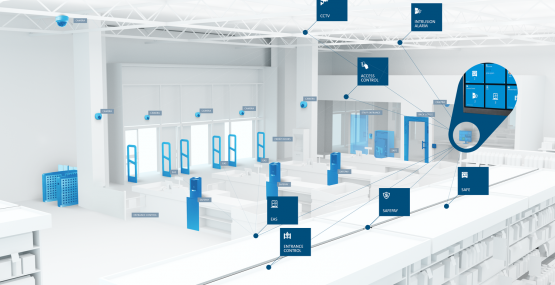 The safety of schools should also include a well-designed plan to control access when a visitor arrives at a university area or in a school building. Obviously, you should limit access to some rooms and areas that are possible only with electronic tokens/cards, keychain and/or door lock systems that use advanced authentication methods.
The visitor's card could, for example, provide access to the specified conference room, for example, where the parents are allowed to meet with teachers. The improved system could track the visitors ' route and his/her current location at a university or in a particular building. Despite the paranoiac, the school may decide to implement door locks, which always require access rights while ensuring free passage.
Systems for Campus Safety and Security
You cannot design a universal project that will predict the security and safety of the university. Each school has a specific specificity, including details that should be taken into account. In this way, school safety is more than a well thought-out system of safety and security measures, not accidental installation of electronic devices.
Even the simplest electronic visitor management system must include ID capabilities, connection to the search database and automatic access to the door. You must add a one-time ID card print to complete the access control system's basic functions for rooms with a high flow of visitors, such as colleges and universities.
Such a security system provides a certain level of security for both pupils and teachers as well as for visitors. For example, you can immediately receive a message about the number of visitors in the safe area in an emergency. The enhanced system will also ensure the location of visitors in the safe perimeter.
Here's how such a system works in practice:
Visitor approaching the school entry point.

Camera captures a visitor's photo record.

The system records all the necessary information.


Issuance of a visitor's badge with a photo of a visitor.

Access rights are granted to the visitor (electronic card).

Visitor data is entered into the system and the login area.

The software records all attendance data for each visitor.
The above list is not exhaustive and the school/college security system may have other and enhanced features. For example, an organization may decide to track its visitors in real-time, which however requires a lot of effort and substantial input for both software and security personnel.
On the other hand, despite all human errors in terms of safety in public places, the physical presence of the guard remains a vital security and safety measure. By combining a reliable school security and security system with trained security personnel, you actually get the school's ultimate protection.