LS3408-ER Rugged Barcode Scanner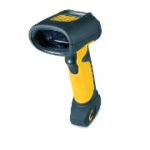 Corded scanner captures 1D barcodes under harsh conditions, even when labels are at varying distances.
LS3578-ER Rugged Barcode Scanner
A cordless Bluetooth-enabled laser scanner that reads 1D barcodes from near or far.
MT2000 Mobile Terminals
Combines advanced 1D/2D barcode, DPM and image capture with the ability to key in and view data – plus 802.11a/b/g and Bluetooth connectivity options.