Rail OCR Portal System Services to Improve Operational Efficiency
The importance of Intermodal Train OCR operations within the global supply chain has never been more apparent. Leveraging the tracking technology solutions implemented by most North American Class 1 railroads, shipping companies like UPS and FedEx have recently begun to utilize intermodal transport options (versus truck or air options) in an effort to lower the costs to their customer. This is creating a spike in traffic for the railroads and the marine container terminals across the country. Our company is helping to handle this recent growth using proven OCR Railway Automation Systems to improve productivity and keep operating costs low.
As the number of containers shipped by rail continues to increase, so does a need for rail ocr automated inspection, identification and inventory of rail containers. Suraj Informatics Rail OCR Portal provides a solution for remote vision inspection and automatic identification of containers and railcars. It comes with a Gate Operator Train OCR app for further processing and processing of exceptions.
OCR Railway Portal of SIPL takes the next step in providing vastly enhanced tracking and identification of containerized cargo that moves via the rail. The system is flexible enough to provide identification and tracking of rail equipment and containers for the following operational scenarios:
Marine container terminals (with on-dock rail tracks)

Traditional intermodal ramps

Multi-tenant interchange yards

Along high-speed mainline tracks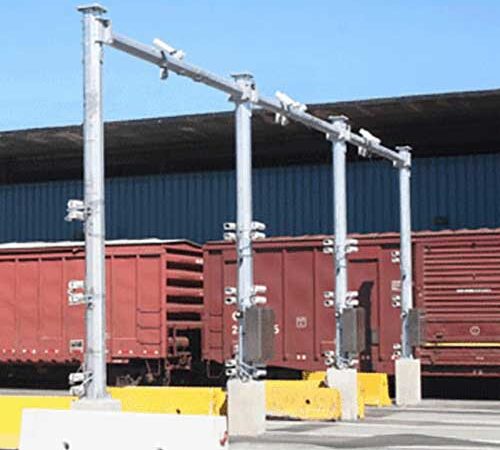 Using trackside AEI readers, high-resolution CCTV cameras and other Train OCR software, this identifies, tracks and archives the image and equipment number information of a passing train. All these data is collected and combine to produce fully automated container to railcar association and eliminate the need to manually perform train inventories or Track Standing Orders (TSO). In addition, Rail OCR Software can capture damage inspection images to enable verification of equipment condition and damage during arrival and departure.
With advanced camera and sophisticated software, Train OCR doors enable remote visual inspection of information about incoming containers and railcars, speeding up the train's verification process.
The OCR Railway Portal is equipped with SIPL's renowned camera systems and MOTORS and is still expanding with various sensors. When a train passes through the camera train portal, the line boxes on the left, right, and top sides of each container produce high-quality images, while optional area scans line up on the front and back of the container. The Train OCR data collected is the container number, ISO code, non-ISO container number, the chassis and railcar number, IMDG and seal presence, and the door direction.
Suraj Informatics Rail OCR Portal Solution System supports running train operation, stops and shunting without delaying or hindering operational processes in any way. It also supports double stack containers and dual-track trains.
In a second phase, additional functions of Railway OCR are provided, such as the recognition and reading of coding diagrams as well as dangerous goods and labels.
In addition, Train OCR gate will be installed in the check-in area of Railway OCR Terminal. This allows for simplified procedures and faster registration of incoming and outgoing trucks.
How IT Works-
Thanks to Railway OCR dedicated software, through which operators can process every train passage. Saved images can be used to correct operational or input errors. Once all data has been validated, the Train OCR software communicates everything to the system, making it a truly integrated system that creates fast, precise and safe rail handling system.
A list of all loaded trains and containers are provided in advance by system with issued by the departure Rail terminal. This list is compared to the data read by the cameras on the rail ocr portal so that an exact passage under the rail portal can be linked to a specific train number and the exact location of each container can be returned on an identified railcar.
Before Railway OCR data is sent to the TOS, operators can use the Train Gate Operator app for post-processing tasks. This application allows the operator to visually check the condition of each container and railcar and to check, correct and validate the data processed by the train OCR. If the information collected is complete and accurate, the processed data will be sent to the ToS for further processing. The validation process takes only a few minutes and can be performed locally or remotely by a door recorder at one or more locations.
All high-resolution images taken on the left, right, and top of each container of rail ocr portal are available. These images may be used as evidence in the event of a customer's claims for damages or in improper proceedings.