Omnii XT15 Series
Uniquely adaptive by design – combines extreme versatility with open innovation to deliver flexibility.
9160 G2 NARROWBAND WIRELESS GATEWAY
The flexible digital Narrowband wireless gateway for affordable wireless connectivity across your most expansive outdoor areas.
VH10 / VH10F VEHICLE-MOUNTED COMPUTER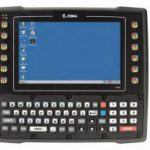 Provides the real-time information your workforce needs to get the job done fast and done right – in warehouse aisles or in a freezer.