Symbol CS4070 Companion Scanner
Introducing the Symbol CS4070, the easy way to add enterprise-class scanning to any mobile device. If your workers are using tablets, laptops and smartphones, they all share a common challenge — the consumer-grade camera used to capture barcodes makes scanning slow, uncomfortable and impossible unless the barcode is perfect.
CS3000 Series Companion Scanner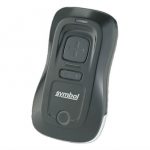 The innovative Zebra CS3000 Series enables enterprises to easily implement 1D laser scanning where either mobility or the cost and size of a traditional scanning device is an inhibitor. The tiny device is affordably priced and fits in a pocket or on a lanyard. .
Symbol CS1504 Companion Scanner
The CS1504 barcode scanner has compact, go-anywhere design that allows it to fit into a purse or onto a keychain. This shopping buddy can scan barcodes from print ads, catalogs or merchandise and then make purchases or shopping lists that can be viewed online. Using the device is simple: just point, click and scan.