Thermal Camera for Fever Detection
The growing threat of covid-19 not developing a vaccine against the virus around the world is putting enormous pressure on global health systems. In times of crisis, technology companies around the world work sideways in healthcare and offer a wide range of innovations, from AI and big data to robotics and the cloud. Some companies have even developed AI-compatible detection cameras for large-scale projection, real-time status reports and Body Temperature updates.
For example, Depth's AI fever detection camera helps prevent the spread of viral diseases such as COVID-19 by detecting high body temperature quickly and accurately. Deep heat Detection Cameras use Advanced Artificial Intelligence and scene analysis to detect and evaluate High Body Temperatures in real time. The AI power supply system combines thermal imaging with visible sensors and is a powerful tool for determining the high temperature of the human body.
Fever Detection Systems can scan carefully at a safe distance of 30 people per second, conduct transparent and extremely fast surveys, and provide powerful image and scene surveys, including gender, age, expression, glasses, beards, masks or masks. The system supports most third-party scanning for richer features or scenarios such as social distance safety practices, cough/sneezing detection, and keyless input voice/face verification.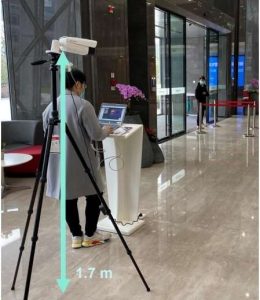 In addition to IN depth in the AI-supported detection camera market, a number of companies offer AI-based Fever Screening Systems. For example, Altoros, a software development company that provides products and services for cloud casting platforms, offers a fever screening tool to prevent the spread of COVID-19 disease. The system, powered by artificial intelligence, can respond effectively to high body temperatures and immediately warn people. Unlike conventional thermal imaging cameras, Altoros' AI-enabled heat testers are effective in detecting fever patients, maintaining high-precision (0.3 o3/0.6oF), detecting targets and automatically sending instant alerts, and repeated temperature measurements for people who may be infected at specific intervals, at high measurement speeds, up to 30 people simultaneously and with a wide range of coverage.
Singapore-based Integrated Health Information System (IHIS), a nationally successful organization, recently partnered with local health start-up AI Kroni to filter and identify people with or with fever symptoms using AI-based Temperature Screening Solution thermos. The system will be tested at IHIS headquarters at The Regional Hospital in North Serono.