Human Body Fever Screening Solution and Service India
Fever Screening System is a system for Measuring body Temperature for mass control of high pedestrian zones such as airports, train stations, factories and other public places.
Thermal Camera for Fever Detection and Temperature Measurement System is easy to install, operate and move with minimal installation and operator training time. Screen and audible alerts identify one or more people in a large crowd with visible temperature monitoring and help quickly detect and maintain the pedestrian flow. The system is password protected to prevent unauthorized changes, while flexible configuration software allows the user to select the thermal and visible image side by side or image-in-picture, as well as recalled images needed for second-level fever warnings and fever screening. Human Body Temperature Screening Solutions is now provided to give individuals and organizations confidence in their public health actions that protect their citizens and visitors.
So, what kind of fever detection is accurate, effective and safe? And which solution is best used in different scenarios? We discussed solutions with various partners to find out more.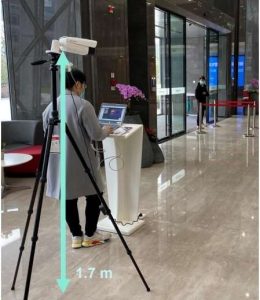 Disadvantages of traditional thermometers
Traditional Fever Detection Camera include glass, ear or for thermometers, digital thermometers, etc.
Intense time and work: can lead to long queues when used in large-scale areas such as airports, train stations and other public areas.
Close contact measurement: increases the risk of cross-contamination and causes fear of infection.
No data collection: not conducive to centralized data analysis and analysis.
By comparison, thermal screening solutions draw more attention to their benefits and effectiveness in identifying people with fever.
Benefits of thermal screening
Thermal Camera for Fever Detection of the body using cameras that detect the infrared energy of people and objects.
Effective cost: Cameras can measure the temperature of multiple people at the same time, especially in crowded public areas.
Contactless measurement: effectively prevents cross-contamination.
Reducing psychological impact: The process of non-interference causes less anxiety and negative emotions.
Data acquisition and integration capabilities: Centralized data acquisition data and thermal imaging technology can be integrated with other solutions such as facial recognition, alarm systems and more to enable effective response and tracking.
Thermal screening solutions
Quick and preliminary detection for temporary deployment .
Location: Cameras installed on a tripod or other temporary facility are placed at existing entrances at train stations, bus stops, subways, airports, etc.
Benefits: Can be used and removed quickly, depending on emergency and emergency notifications.
Suraj Informatics provide you Best Fever Detection Thermal Camera for Human Body Temperature Screening. It is best Body Thermal Screening System in India and Suraj Informatics provide Thermal Camera Solution with their Service.