The Future of Port Automation
It cannot be argued that technology is taking a start and opening up exciting new opportunities for progress in the shipping industry. One of the most important efforts in this direction was the automation of terminals and ports.
The report credits the growth to the growing demand for large container ships, high labor costs in the industrialized countries and the increasing competition between container terminals.
The report credits the growth to increasing demand for larger container vessels, high labor costs in developed nations and rising competition among container terminals.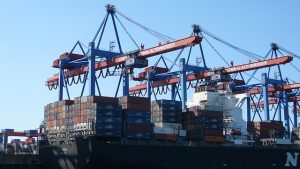 The aim of automating ports and terminals is to introduce a completely new level of consistency in cargo handling and to reduce labour costs and CO2 emissions compared to manual port terminals.
There is also the reduction of human errors and delays, and the fact that fully terminals automation system are able to provide 24/7 service – through the night, in total darkness, and without the need for a caffeine or bathroom break.
But for reasons ranging from unions to costs, not all port terminals are directly jumping straight in to benefit from this. In fact, of all terminals worldwide, only 3% are semi-automated or fully automated.
Suraj Informatic's Port Automation Systems enables shipping terminals to replace the slow, limited and narrow band with wireless connectivity. We understand the specific requirements of ports and terminals. We help to build and plan a stable, robust, and scalable IT and telecommunications infrastructure to increase productivity and reduce operating costs.
Why Suraj Informatics?
TRUSTWORTHY-We actively work with terminals and create long-term partnerships based on mutual trust.
EFFICIENT-Our approach is always to find practical solutions by using the best technology at the lowest possible cost to achieve the desired result.
TECHNICAL EXPERTISE-A highly professional team of technical and project management experts brings deep understanding and commitment to the highest quality.
SYSTEMS INTEGRATOR– We offer integrated solutions that add value by improving workflows, reducing costs, and simplifying business processes.
If you have any question, our team is ready to answer all your questions. You can Contact Us or drop us a mail at sales@surajinformatics.com.