High Tech Security and Services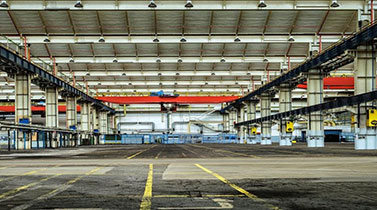 Dealing with hardware products Warehouse security is a critical component for any business. Warehouses are used to store all hardware equipment and products. As many company experiences major losses because there is no security plan involved. There should be a strategic approach to increase the security of your warehouse during work hours and when the space is empty. With the help of all the latest technologies all risk-related inventory should be protected. Apart from that you should also educate your employees to react accordingly in case of emergency.
 Access Control Warehouse Security often pose a unique challenge for traditional security systems. With their massive size and complex layout vulnerabilities can occur not only externally but also internally.
Few Vulnerable Areas that need protection in a Warehouse:
Ensuring warehouse security that means covering all the vulnerable areas. Those include gates as well as doors, staff should be well trained to react quickly in a critical situation. Warehouse theft prevention includes more than securing entrances and exits which involves protecting your inventory-including goods, machinery and equipment.
To increase more security there should be keyless access control can be installed.
Warehouse doors should have maximum protection. Access logs will be produced and can be retrieved  automatically for each door, and any person who enters the door will be recorded.
There should be suitable fire alarm and most will integrate into your access control solution.
It is important to integrate fire protection during the time of installation.
Surveillance Cameras must be use in your warehouse. You might also need glass break detection. Limited access should be there so that any unauthorized person cannot enter in restricted areas.
Now a days criminal cyber activity are at incredible pace. For many a poorly maintained or outdated Access Control System (ACS) can be the gateway a cyber-criminal needs to look into your network. In this case ASC help us to focus on developing solution that would secure access as well as manage access rights and cardholders. We must also protect ACS from criminal cyber activity.
You need to secure entry level of your ACS Architecture. As with all system and networks, your ACS is only as strong as its weakest point. Vulnerabilities can enter at every level of architecture between the readers and intelligent controller or even in your software. Threats will only continue to evolve, so you need to stay ahead with more sophisticated defences.
Access control high tech security system is extremely simple to implement in the existing system and hence maintenance. The security and safety measures at your work place are crucial with respect to creating reliable ambience for employees and visitors. With high graded Access control tech security system you can have control over who is accessing your premises and for how long and what time it should be accessed. It also help you to track movement of visitors and other unauthorized person.
 Gate Operating System (GOS) is specifically developed to manage the diverse and localized gate used in modern terminal operations. To allow the customization of per gate , the GOS consists of a wide variety of software components. Gate automation solution is comprised of a customer-specific components, such as gate processes, kiosk screen and other interfaces. All these components are implemented through custom software development.